About Ratio Clothing
We've rethought custom clothing from the ground up to be stylish, easy, and affordable—without the fuss.
Premium fabrics for every occasion—casual styles too. Impeccable construction. Exceptional customer service. All delivered with the best in modern technology at an unbeatable price—perfect fit and fair markups guaranteed.
A Letter from our Founder
---
Hi Everyone—
We started Ratio Clothing back in 2010 for a fairly simple reason—we wanted better-fitting shirts and the existing options weren't cutting it. Mall brands seemed to have no concept of good fit. Custom seemed designed for a banker stuck in a 1980's time-warp.
Since then, we've learned a lot. A lot about making clothing. A lot about fabrics. And, a lot about what is still broken in the clothing industry.
"Fast fashion" still pumps out cheap, disposable crap by the boatload (literally). Big brands still over-price so-so goods with expensive, glossy marketing. The never-ending cycle of sales ("40% off, today only!") seems as prevalent as ever. Don't get us started on the ads in your Instagram feed…
At Ratio, we love clothes. We love the people that make them and the care and craftsmanship that goes into it. We just have higher aspirations for our industry.
We aim to deliver both value and values in how we operate. Value, via a Fair Markup Guarantee, that ensures you get the most bang for your buck. And Values, via a set of principles that we abide by.
Those tenets have helped shape the first decade of our experience, making shirts for the thousands of you that we've been proud to call clients. We're still a small business, with just a handful of employees working to get better every day, so we encourage you to reach out to us—make suggestions, tell us where we can do better. We're listening.
All the best,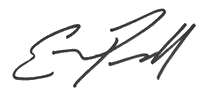 Eric Powell
Our Values
Everything we do comes back to a core set of values based on keeping things simple. They're what guide us in treating our customers how we'd want to be treated, and making sure that in the long run, we're conducting business in the most genuine, value-loaded way possible.
---
Maximize Value, Not Margins
When we launch a new product or fabric, we ask ourselves a simple question: "What's the best possible price we can offer this while still successfully operating the company?" Most companies ask: "What's the maximum price we can get away with?"
That simple reframing ensures that we offer the best value we can. It's so important to us that we hold ourselves accountable with our Fair Markup Guarantee.
Transparency Over BS
Fashion marketing is loaded with BS to justify sky-high prices for so-so products. You're smart, and we know it. That's why we believe in telling the story about our products simply. What they are, where they're made, how much they cost to make, and what makes them worth owning. It doesn't need to be more complicated than that.
Embrace Technology
In the apparel business, a lot of the "old way of doing things" is romanticized despite being inefficient or even resulting in lower quality. For the vast majority of challenges we encounter, technology enables us to serve our clients more efficiently, consistently, and with better quality. So we embrace it.
Always Make It Right
We're an all-custom clothing company, so personalization and perfection lie at the core of everything we do. Every product we make is created for a specific person, and we want them to be 100% happy with every Ratio item they buy. It's that simple, and we will work as hard as we can to make that happen.
No Games, No Pressure
We won't clog your inbox with promises of "40% off, today only!" only to run the same sale next week. In fact, other than the occasional style we have a bit much of, we don't run sales at all. We try to offer the best price 365 days a year and our Rewards Program offers a simple way to save for larger purchases.
And, if you have the chance to visit us in person, you'll never get a hard sales pitch or any pressure to buy more than you're comfortable with.
Design for Today
It used to be that custom clothing was reserved for stiff, conservative business attire. But that doesn't match the way we live now. Offices are more casual, and chances are, you care as much about how you look on the weekend as you do at the office. We design for all aspects of life in the 21st century, from weddings to Wednesdays to weekend tailgates.